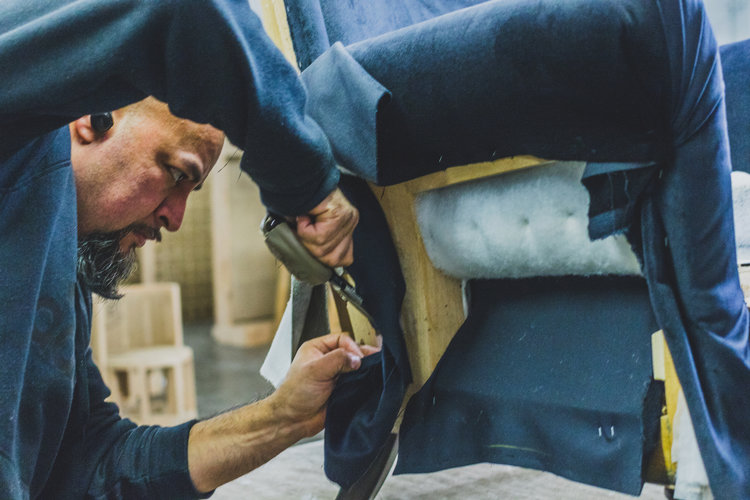 On a rainy LA morning, I visited the A. Rudin factory. One of the oldest furniture makers in the area, everything is made in Los Angeles with locally sourced materials, and not only are their pieces handcrafted by a team of artisans, but their construction and collection methods are extremely green. After a tour of the factory by Brothers Spencer and Evan Rudin, where they explained to me that every piece can be custom designed, we sat down with their father, and current owner Ralph, to discuss the state of furniture making, and the importance of Art with a capital 'A'!
Eric: Can you tell me a little bit of history about A. Rudin?
Ralph: Well, my grandfather, Morris, came to the US around the turn of the 20th Century as an immigrant from Russia. He came down the west coast of California, and learned the upholstery trade in San Francisco in early 1910. He was a very young man then, and moved down to Los Angeles and worked in an upholstery factory here, and was soon asked to make things for friends, and soon other people, as well. He worked in his garage on the weekends doing that. And when he couldn't keep up with the growing demand, he hired his friends to help him and thus became the American Story of building up a business inside of a garage. So my grandfather opened back in 1912, and that was one of the first 'factory-to-you' businesses in Los Angeles. I mean there wasn't a hell of a lot in LA around the turn of the century, if you've ever seen pictures of it.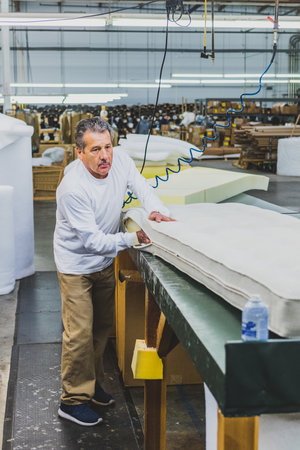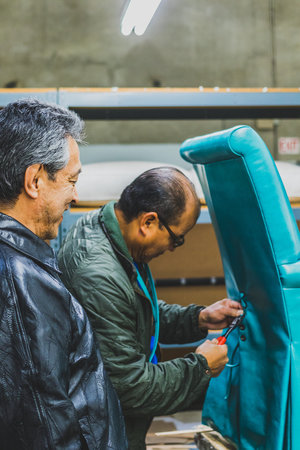 Eric: Yeah, it was really a one horse town back then.
Ralph: Yeah! And it was called Rudin's Furniture, and he was making custom pieces. There wasn't really an Interior Design world back then. Back then, Interior Designers usually worked for furniture stores. A lot of my father's sales people would go out to a house, and basically design the house for the clientele.
The original store was in Los Angeles, on Washington Boulevard between Vermont and Hoover, and basically it was servicing the wealthy area of Los Angeles back then, which was Hancock Park and Pasadena – gradually growing West at that time. So, they were in the retail business and manufacturing and it was a 'factory-to-you' business back then, and it's slowly morphed.
When my grandfather passed away in the 60s, my father opened larger furniture stores where he was buying and selling furniture on top of what he was manufacturing. In the 70s, when I started working for him, I immediately saw that high-end furniture and designer furniture and fashion was sold through the Interior Design trade. In 77, I talked my father into dealing with the Interior Design trade only, so we sold specifically to the trade and after 10 years on Robertson Boulevard, we moved to the Pacific Design Center, because everyone was then off of Robertson or moving off of Robertson to the Design Center. So that's kind of the history of where we are, and have been since I went into the business.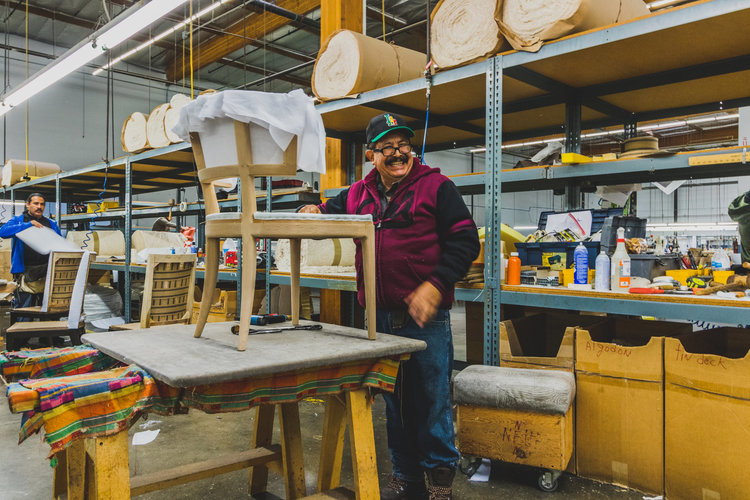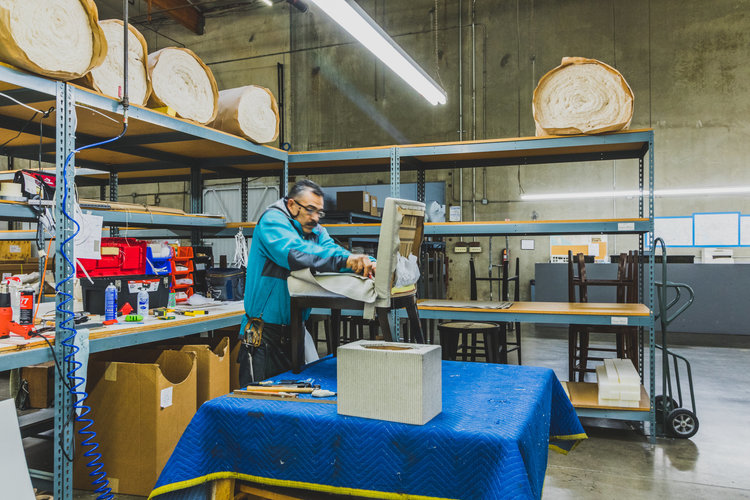 Spencer: If we take a step back my dad was speaking about how the business is really a manufacturing business out of Los Angeles, and when my dad did realize that the Trade was the focus, the high-end Designers and Architects of the world, he decided not only to continue manufacturing very high-end furniture, but to find great lines from all over the world that he was really enticed by. And so he started really curating the space and offering art and accessories as part of the business. As well as offering different types of furniture, carved woods, and some contemporary. And, really getting a chance to understand what the high-end needs were on all fronts of design: from Contemporary, to Traditional, to Neoclassical.
Then when I was lucky enough to join the business after college and after a couple years in another business, I tried to continue to push that forward, by going to shows all over the world to see what the young, bright talents of the world are working on. Because while we're all here designing furniture, it's really important for us to understand what people are coming up with – what the next generation is looking for, and what their style is. So we continue to curate and look for what's next, and what complements the furniture that we design and build.
I'm lucky to be able to do it with two incredibly amazing and talented people: my brother and my dad, and I've been in the business for about 11 years now, and Evan's going on four or five years. We all come from somewhat different backgrounds, but to have a unity of different generations and different skill sets has aided in making some really cool stuff happen.
Ralph: Right, and that being said, it's almost like we have two businesses under one roof: We have our manufacturing business, in which we're selling our own product, and then we represent, as Spencer said, artists and other companies – and then lines that we really curate, and we represent them in our showrooms.
Spencer: Yeah, so we have four A. Rudin showrooms right now in Los Angeles, Chicago, San Francisco, and New York. And then for our product we have representation in twelve other cities in the United States, where our product is wrapped in a multi-line showroom.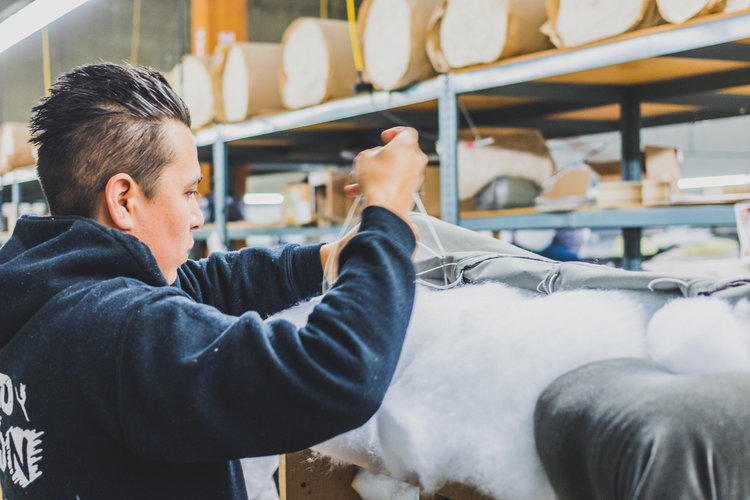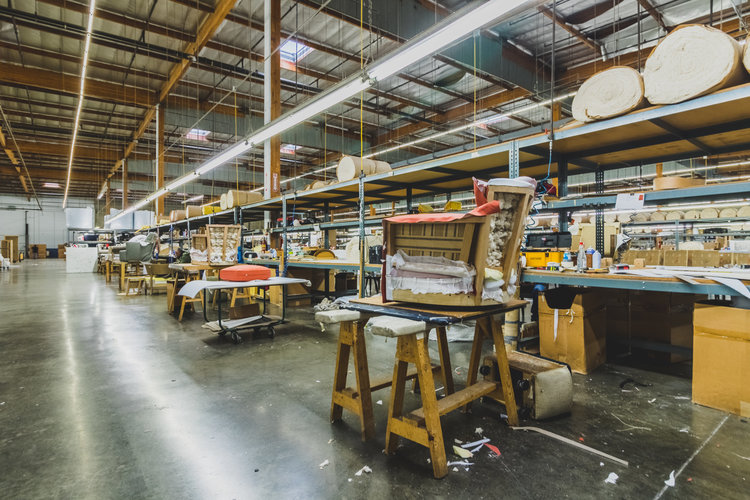 Eric: You mentioned that you you're constantly going to look out for what the latest and greatest is, and what's coming up. What is coming up?
Spencer: Well, we continue to see a lot of natural tones and nature reintroduced in the last couple years. We've seen a lot of live Edgewood, we did a great collection with a California-based Interior Designer last year, and a big part of that was using live-edge fallen wood! So I think that will continue to be celebrated. It seems like jewel tones are becoming incredibly popular in things like wallpaper. So I think that colors are definitely coming back and a little bit more of a vivacious vibe in general.
Evan: And you saw it when we were walking around earlier in the factory, and we were talking about how we see a lot of traditional coming back, and we're kind of lucky because we walk out every single day down there and we see patterns. We see a lot of traditional coming back lately!
Spencer: But it's traditional in a modern sense. I think that there's such comfort, especially in the residential world in traditional furniture, and in these forms that have been around forever, and now people are kind of reintroducing that, and figuring out how it can fit into something like a modern bungalow, or a very modern home, or a Spanish home that somebody wants to make feel fresh and light.
Ralph: I've seen things change over the years where things got very… I mean there was a period in the 80s where things were made out of silk, everything was silk! And very precious and high-gloss lacquer tables and things like that, and I saw that 10 years later people didn't want to live with such precious materials. They couldn't put their feet up on the table because it would scratch, or their dog couldn't jump up next to them, or their kids either because the fabrics they were using were so delicate. And it seems like people – especially today, live in a much more casual way.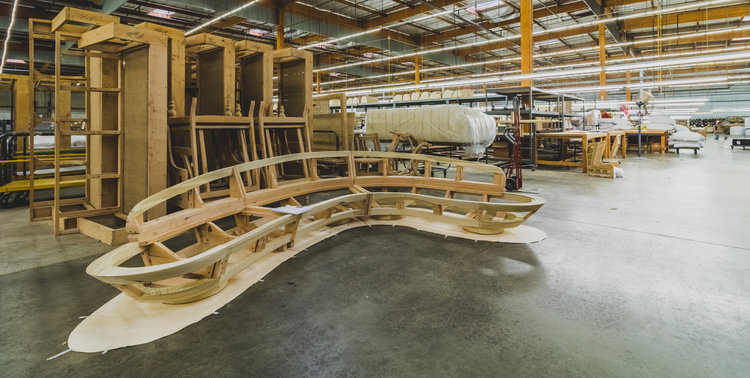 Eric: so I like to ask a lot, just to give people a little bit more of an in-depth look into the personalities of people I interview, what would your living room look like if you had no budget or limitations?
Spencer: We all collect art, so that's definitely where the unlimited budget would go!
Eric: what would you hang on the walls? Mid-Century type art, or maybe more modern work?
Ralph: To me, it's whatever catches the eye. I've lived long enough, and been lucky enough, to have very collectible art in my home. There are some things I have, like a Parisian cafe scene in oil from the 30s that I love, and I have Ed Ruschas, and Andy Warhols, and Hockneys. Just things that I love, I tend to go through for Modern, but listen, if I could afford a Monet, I would be right there with it. It's just what do you love to look at and live with.
Eric: Do you find that your love of art influences the work done at A. Rudin?
Ralph: Yes, in a way. The most difficult thing is to make things not look cluttered, and look like they belong. So, to get that into a piece of furniture and make it so the details are really important, but they're so subtle that it's almost a subliminal thing with subtle elegance.
Spencer: I'm a little different, I would love to have a room filled with like Rene Magrittes, and Dalis, and beautiful surrealist – very imaginative, very inventive pieces. And then, have something like a George Nakashima table there with like an incredible piece of walnut wood that's almost a work of art within itself. I love a lot of Mid-Century pieces, I love a lot of Deco pieces, it's really timeless beautiful furniture. I think that surrounded by Rene Magrittes, it'd be nice to have a Robsjohn Gibbings dining set, and it's kind of endless where we could go with it.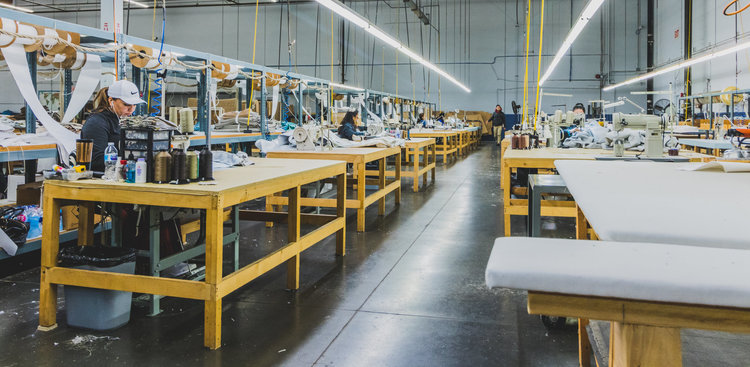 Eric: So you're kind of the flashy one of the family?
Spencer: In my own personal home, pretty much all of the color comes from the art on the wall. I went with pretty neutral grays, and some black leather for the home, and it's almost a gallery-esque set up, and the art tells the story.
Ralph: But you have a lot of street art also. You interact with those artists.
Spencer: Yeah, well a lot of my friends are artists, I still draw all the time, and I still roll with all those people. So the grit, the color, the texture and the story that it's telling. I mean you look at street art, and it's telling what is going on in modern society. You look at every generation, and what they were talking about is on the walls. It's very different now, you're seeing a lot of politics continually conveyed. There were all these different eras of saying what's going on in the world on the walls. So I continually celebrate that and I like to, in a soft way, bring that into the home.
Eric: I'm a pretty plain simple guy, I like things that are done perfectly, and I like things that are comfortable. So let's say it's not the most exciting, but…
Spencer: Yeah, but you've got some punk rock to you, like when you look at the art you have in your home: it's oriented around stuff like Bad Brains or Raymond Pettibon pieces that kind of push the envelope. They fit into a very minimal aesthetic, but you look behind the veil with Evan, and you see a lot more. I think that's one thing with him, he may say plain, he may say understated, but…
Eric: But plain can be very thought out.
Ralph: And with your film background, there's a lot of organizational skill behind what you see. Just the organization and the layers of it.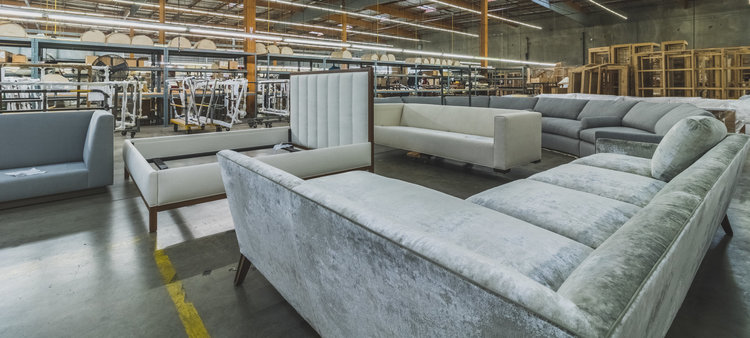 Spencer: We are so lucky that our parents introduced us to art and culture and to the importance of it at such a young age and through travel, because we wouldn't be who we are now or have as deep of an understanding about both furniture and art, and where they intersect.
Eric: And that's also why we like to have original art work, because we respect artists. Artists like the guys and girls downstairs that work for us that are out there with their hands making such beautiful furniture. That's what's special about what A. Rudin makes: It's not just a conveyor line of furniture going through. Each piece is totally handmade.
Ralph: That's very true, there is feeling and texture to it – it's not made by a machine. Different people fill an arm differently, or pull fabric tighter or looser, and it's all about comfort and feel.
Spencer: Exactly, and everybody does it differently. Everybody has their own artistry. They carry a different energy, and that energy is put into each piece of furniture, so when we talk about original art versus print art – I mean, I started my whole collection on print art because it's what I could afford. And I've continued to appreciate print art because the art that it takes within itself to do that is a whole different process than painting oil, acrylic, or spray paint. But ultimately, it is great to have the work in front of you that artists you appreciate put their hands on.
Eric: That was a really great explanation of art in your business, and the artisan work that goes into it. Just finishing up, can you tell me a little bit about the process of how A. Rudin makes their furniture?
Ralph: Yeah, we want to reduce the carbon footprint as much as possible, so when you think about how to do that, it's either using incredibly green products, or minimizing how far travel is. Since all of our pieces and all the materials are really coming from Southern California, or even within a five mile radius of our factory: we're not sending trucks all around the world, we're not bringing stuff in on tankers, and so that's a big part of what we do. Also we make sure that our partners, who are often now partners of 30 years, a lot of the frame makers or finishers we're working, with all carry the same ethos as us. Which is why we attract a lot of the clients that we do. Being a Southern California company, there are a lot of people that are environmentally minded and we have those dialogues. We ask our clients what they're looking for, what's important to them, how they view waste, how they view fabrics, and the manufacturing industry in general. So we're constantly refining our company and becoming even greener. So we can help the world!
To read more of our design content, please visit our Journal Page.